Posted by helena on 18th September 2014
Last week I was in San Francisco for Cassandra Summit 2014. I've been attending tech conferences since 2006 and this was one of the best, which took me by surprise. I've been to conferences where it was for one particular technology before but this was different. People were giddy, I've never seen that at a tech conference. There was a real feeling of the Cassandra community there and everyone was engaged, talking and collaborating.
The Summit started Wednesday, the day before, with a full day of deep-dive training for 600+ attendees. Summit day began early with all 2300 attendees from around the world streaming in, getting badges, food and a seat for the keynotes. Billy Bosworth (Datastax CEO) kicked off Summit, then Jonathan Ellis (DataStax Co-Founder, CTO and Cassandra Committer) announced the release of Cassandra 2.1 and stepping into the details of the releases benefits in relation to Cassandra architecture. One of the key improvements in Cassandra 2.1 is the performance boost – up to 50% faster.
One of two fantastic Apache Spark talks were standing room only. The first, by Pat McDonough of DataBricks, Focused on an overarching introduction to Apache Spark for Big Data pipelines, streaming computation with built in fault tolerance at high speeds. This is a dramatic difference from running Hadoop jobs, both operationally and in terms of speed. While Apache Spark can work with Hadoop one primary benefit with Spark is to not use Hadoop at all, thus increasing job speeds 10x. Apache Spark is a distributed in-memory computation Platfrom and clean SDK. I will be giving a few talks in the NYC area this October and at the Pacific NorthWest Scala conference on using Apache Spark over Cassandra and Akka for highly robust streaming data solutions with Cassandra and Spark. Pat's talk focused on the background of Spark and then stepped into how easy it is to get started using Spark. People were being turned away at the door.
For two days after Summit we held a completely packed Cassandra Committers master class.
One of the most exciting and long-awaited talks was Sankalp Kohli of Apple finally being able to reveal the massive scale at which they have been using Cassandra.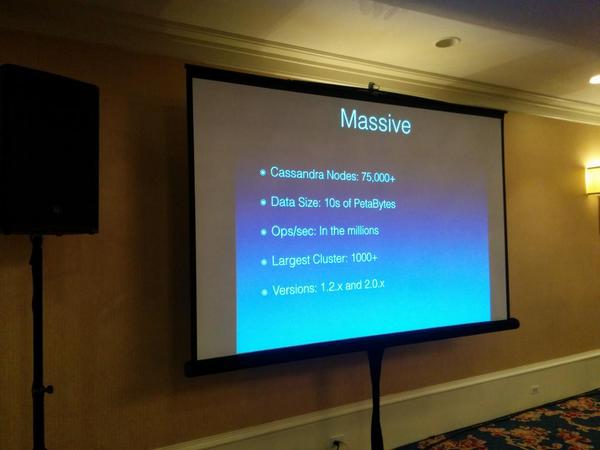 Many attendees were asking detailed questions about Apache Spark with Cassandra and the talks about Apache Spark were standing room only, with attendees even being turned away – literally no more room.
Here are some photos and captions from Summit.
And I finally met and hung out with the people I'd been collaborating with on the Spark Cassandra Connector: Piotr, Jacek, Russell and Artem. And it was great to meet more Twitter friends in person, and chat with others I've met before, with time to talk and exchange ideas about Spark and Cassandra.
Posted in Cassandra, Cloud, NOSQL, Open Source, Performance, Scalability | Comments Off